Set in 300 acres of beautiful countryside with a history dating back to the 17th century, Matfen Hall has 65 bedrooms, five dining areas to eat and drink in, The Retreat at Matfen Hall to relax in, and a championship golf course to enjoy.
Matfen Hall faced the challenge of growing awareness of its brand both within the region and nationally. Despite its rich heritage and stunning location, the hotel needed to find a way to reach a broader audience and showcase its unique offering and refreshed identity to potential guests unaware of its transformation – both within the region but particularly nationwide. 
Following a multi-million refurbishment from owners Walwick Estate Group, the transformation of the hotel and its renewed luxury needed to be effectively communicated with the right audiences via the right mediums.
Matfen Hall secured the service of Allies Group's PR team to help identify the challenge and work out a strategic solution to ensure the brand personality of the country estate was communicated convincingly to the right audiences. 
The proposed approach consisted of several key components – Crafting a compelling narrative for Matfen Hall was essential: This involved defining the hotel's new direction, target clientele, and its prime position as a luxurious base for exploring Northumberland.
Regional Media Engagement: Recognising the importance of the local and regional audience, the PR team engaged with luxury quality trade and regional editors and writers to raise brand awareness with strategic press trips and press briefings and releases. This approach aimed to tap into affluent clientele in the region and leverage word-of-mouth marketing.
Press Visits: One of the central components of the PR strategy was organising national press visits, targeting both national and international media, luxury travel and hotel magazines, and sector-specific media. The goal was to position Matfen Hall as a luxury gateway for exploring the unspoiled beauty of Northumberland.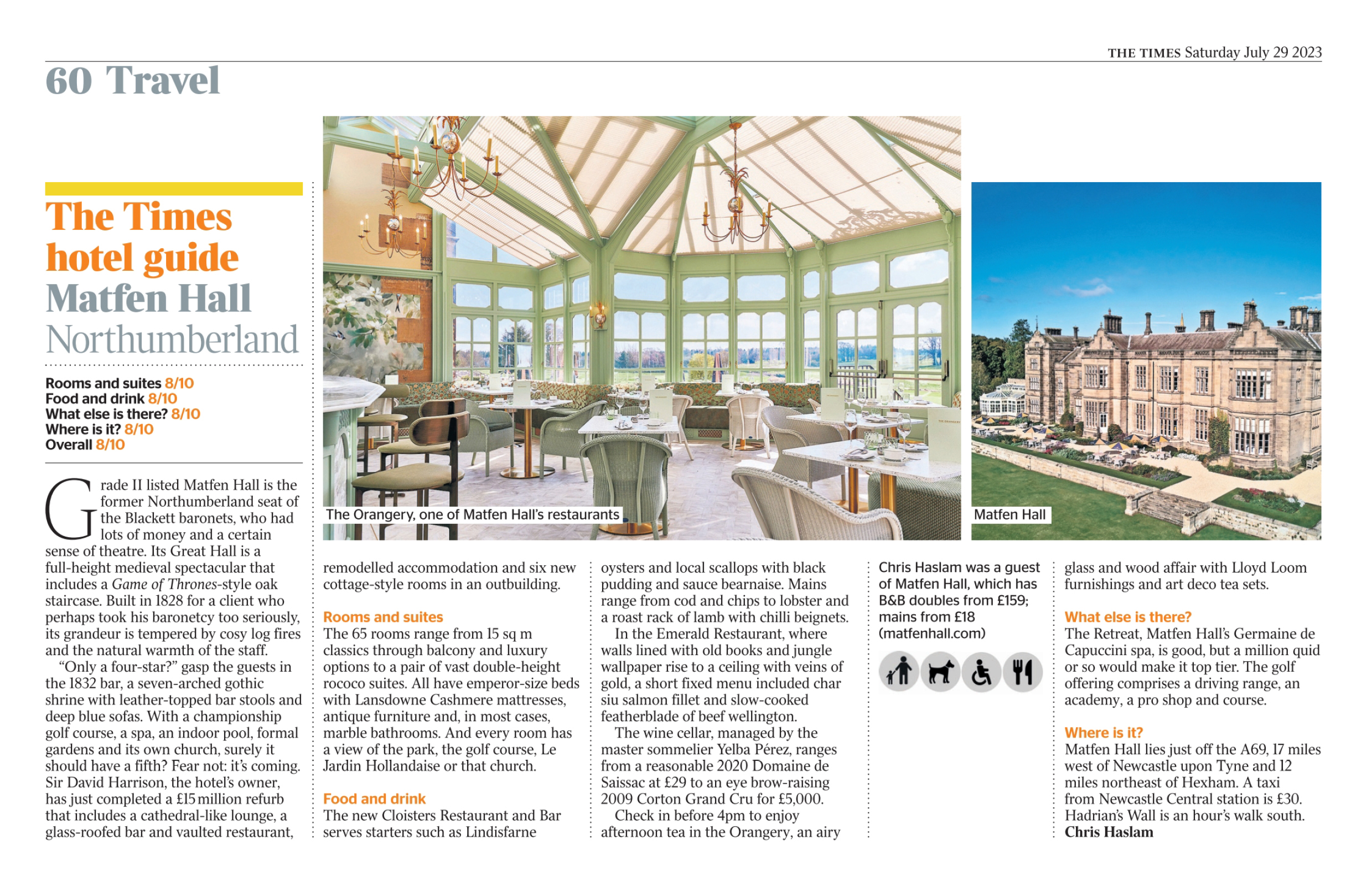 Our comprehensive, structured and well-executed approach yielded significant results. Between June and mid September, the PR campaign resulted in:
40 pieces of quality press, trade, and online coverage were secured, generating 221,000 estimated views.

The coverage received 156 engagements, including likes, comments, and shares on online and social media platforms.

The combined total of publication-wide audience figures for all outlets featuring coverage resulted in an audience of 52 million

Notable mentions in The Times, The Scotsman, and Luxury Travel Magazine garnered significant attention.

Relationships were established with influential travel writers, broadsheet publications, and luxury titles, including Spears magazine and The Telegraph and Independent.
Anecdotally, Matfen Hall reported a substantial increase in enquiries for longer-term stays during the Times review weekend. 

More generally, initial Google Analytics work identified significant uplifts to online traffic on the Matfen Hall site coinciding with key editorial coverage. 
In conclusion, Matfen Hall's collaboration with Allies Group has resulted in a successful PR campaign that significantly raised brand awareness both regionally and nationally. There are still two national press trips to conduct with our client throughout the rest of the year and enquiries have been overwhelming.
Our strategic approach of combining regional engagement with high-profile press visits has thus far effectively showcased the hotel's unique offerings and its role as a luxurious Northumberland base, resulting in increased visibility and interest from potential guests.