This unique 20-year partnership is equipping Sunderland with world-class infrastructure, offering the people and businesses of Sunderland the means to inspire and succeed. Smart city is motivated to unlock new education opportunities, employment and economic prosperity for Sunderland and the wider region.
Allies Group worked closely with Sunderland Smart City to design and build them a brand new website to best display their company, allowing them to engage more effectively with their target audiences. This included Networks and Solutions, Innovation Challenges, News and Insights, City Resources and Events.
The challenge was to design and build a brand new website that is easy to navigate, functional and displays the relevant branding that is required.
It required communication with the stakeholders to ensure that all relevant branding, design and structure was aligned. 
The website required a sitemap, wireframe and visuals while integrating the information proposed by the client. Building a website from scratch required constant communication from all parties involved to make sure that the website was following the correct path, progressing to time and visually was on brand for all partners.
Allies Group have a wealth of experience and talent in building a website from the ground up. Allies Group communicated with the client on a regular basis to make sure that the website met their requirements, in regular status update meetings that were planned in with the client.
Allies Group's experience to understand what functionalities were required and how the branding would be best integrated into the website was invaluable in this project. 
The branding collateral was provided by the client, the task was to implement them into the website to ensure they were aesthetically pleasing and functional. 
Most notably we collaborated with the team at Sunderland Smart City to create a social media wall entitled 'Our Smart City' section that highlights their story of ambition and innovation.
The outcome was that Sunderland Smart City now has a professional, functional website that represents their brand and provides the user with all the relevant information. 
The collaboration between Allies Group and all the stakeholders resulted in a website that is tailored for requirements that were envisaged. 
The website will now sit as an online branding and information portal that will engage and inform the target audience.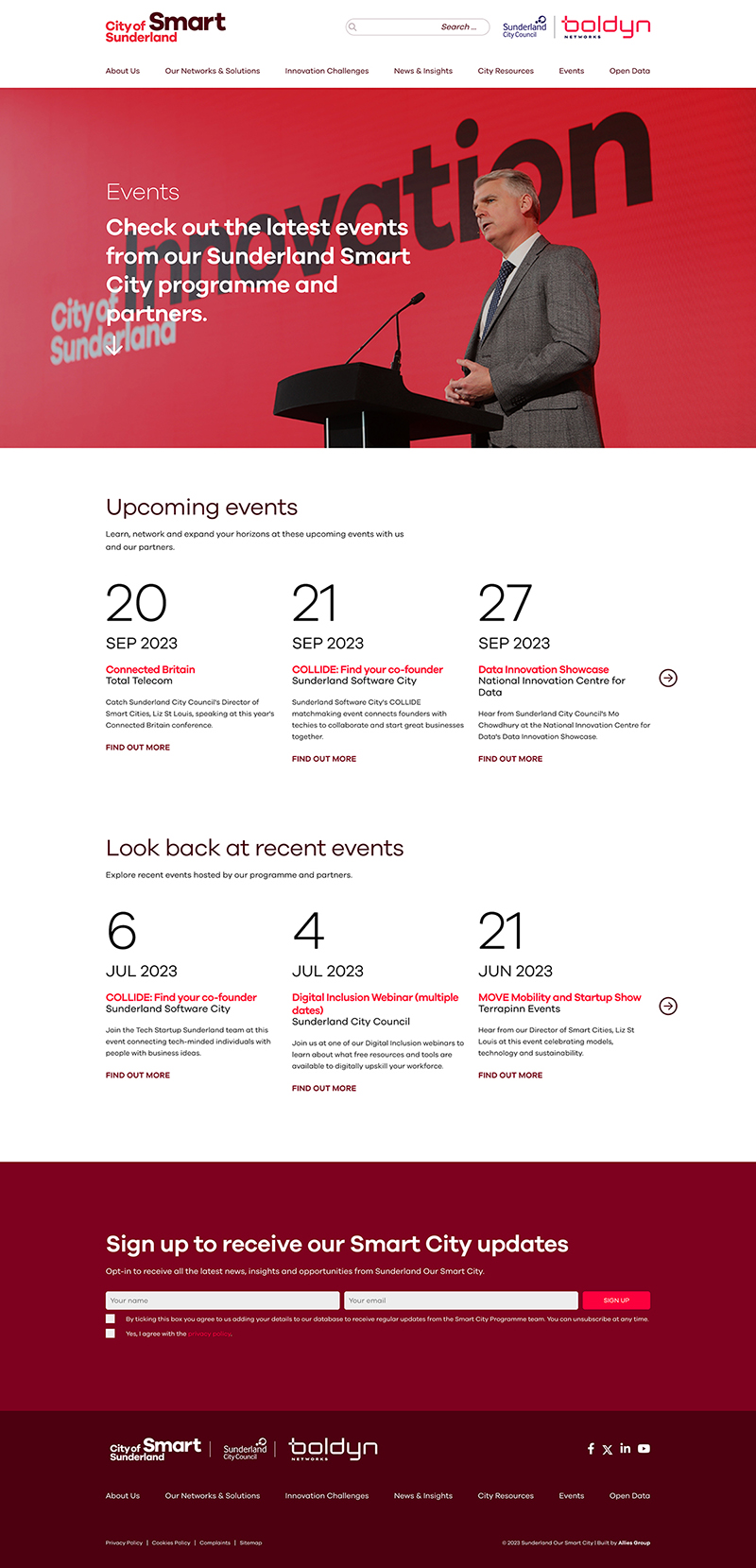 A word from the client
We were delighted with the expertise, innovation and communication from Allies Group. Through every stage of the website development process they were efficient and proactive. Everything that we communicated across was actioned within the required parameters. We would definitely recommend Allies Group to other businesses looking to build a website.
Louise Marrin
Communications Business Partner – Corporate and Partnerships Strategy and Corporate Affairs Sunderland City Council