Brand Repositioning Campaign
Swinburne Maddison LLP is a contemporary and responsive legal practice that serves a diverse client base from high net worth private individuals and small to medium sized businesses to large companies and public sector clients.
They are an approachable, dedicated and diverse team of specialist lawyers providing expert pragmatic guidance and advice in the North East and nationally.
Swinburne Maddison is at an exciting point in its history. As it stands, the business' turnover is in the region of £4 million per annum. The objective is to increase that turnover by 25% over the next thirty six months and be the 'go-to' law firm in the North East.
This brand development project will reposition Swinburne Maddison as a major player in the sector and it will help staff identify with their brand. Ultimately, our objective is to develop a brand and campaign that people get – instantly.
The idea is to let people know about the business' ambition of where they want to be, and why Swinburne Maddison is the best law firm in the North East.
A brand refresh with a creative, campaignable idea to move the business forward. A campaign that helps promote the USP's of the business while developing the look and feel of the brand for an audience in the North East and beyond.
The 'Made to measure' campaign was created. The idea was to extended upon the tailoring theme that runs throughout the Swinburne Maddison tone of voice.
The concept highlights the dedication and personal service Swinburne Maddison offers to each client with every service being delivered by specialist lawyers. Just like the level of personal service you would expect from a tailor.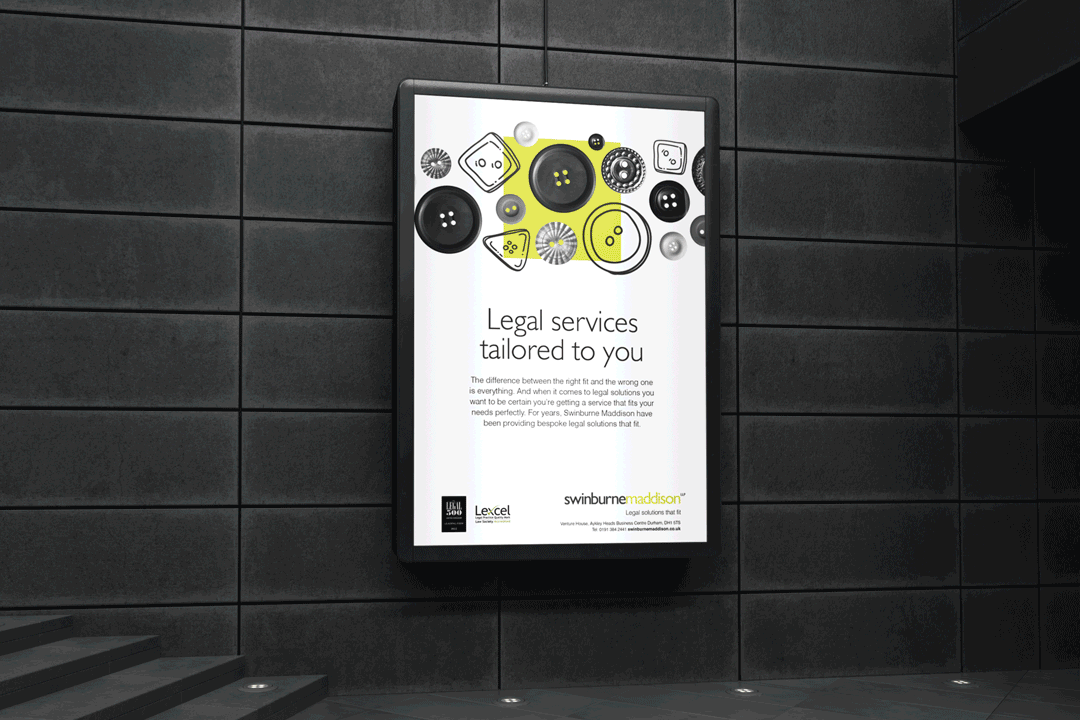 We instructed Allies Group to come up with a new ad campaign and brand refresh which would help us to shift the balance of our brand artwork from dark to light and create a brighter outlook. We were delighted with the result: an eye-catching and modern suite of adverts and artwork which sets us apart from the crowd whilst also being unmistakably "Swinburne Maddison."
Most importantly for us, it also provided us with a versatile concept which can be rolled out across our website, Prism magazine and the other display materials around the office, creating more cohesion and brand recognition across all of our marketing collateral. The Allies team are great to work with – adaptable, responsive and always at the other end of the phone to bounce ideas off!
Katherine Minnis
Marketing and Events Coordinator